Plus...
[Matrix] is Federated:
join and interact with other [Matrix] servers.
Communicate on other platforms from one app / inbox:
Matrix FAQ:
Question: One concern about the decentralized model though is how do we get that room back if one of the admins decides to be a rogue actor? Is there any way to prevent that from happening?
Answer: Each room can have multiple admins. So you either set actual separate individuals to be admins of the room, or create "backup user" accounts so you can save the password and key in a safe place in the event you lose access through your primary [Matrix] acount.
Also, each admin can go in and "export chat" to back up the room whenever they want (HTML, plain text, JSON). This is helpful for organizations that are legally required to keep a 'paper trail' of their communications. Matrix servers can also be configured to retain their message history according to your liking, using message retention and redaction policies.
With Matrix, rooms are essentially disposable. We just "elect a new leader" and create a new room with that person as admin.
---
Question: Why host your own [Matrix] Server?
Answer: The benefit of having your own Matrix server is that the data exchanged between you and other [Matrix] servers will be stored redundantly, this means that even if one server or the public server goes offline or disappears forever your data and content will still be stored and accessible. Think of it like an encrypted cloud service for everyone for free!
Matrix rooms can intergrate with your existing website and email systems: easily receieve messages from standard HTML webforms and SMTP mailboxes!
---
Should I use a @user:matrix.org account?
The real risk of using a :matrix.org account is you're giving up some control by letting your account operate on someone else's server. Otherwise the same level of encryption applies to your Matrix chats, regardless of which homeserver you use.
---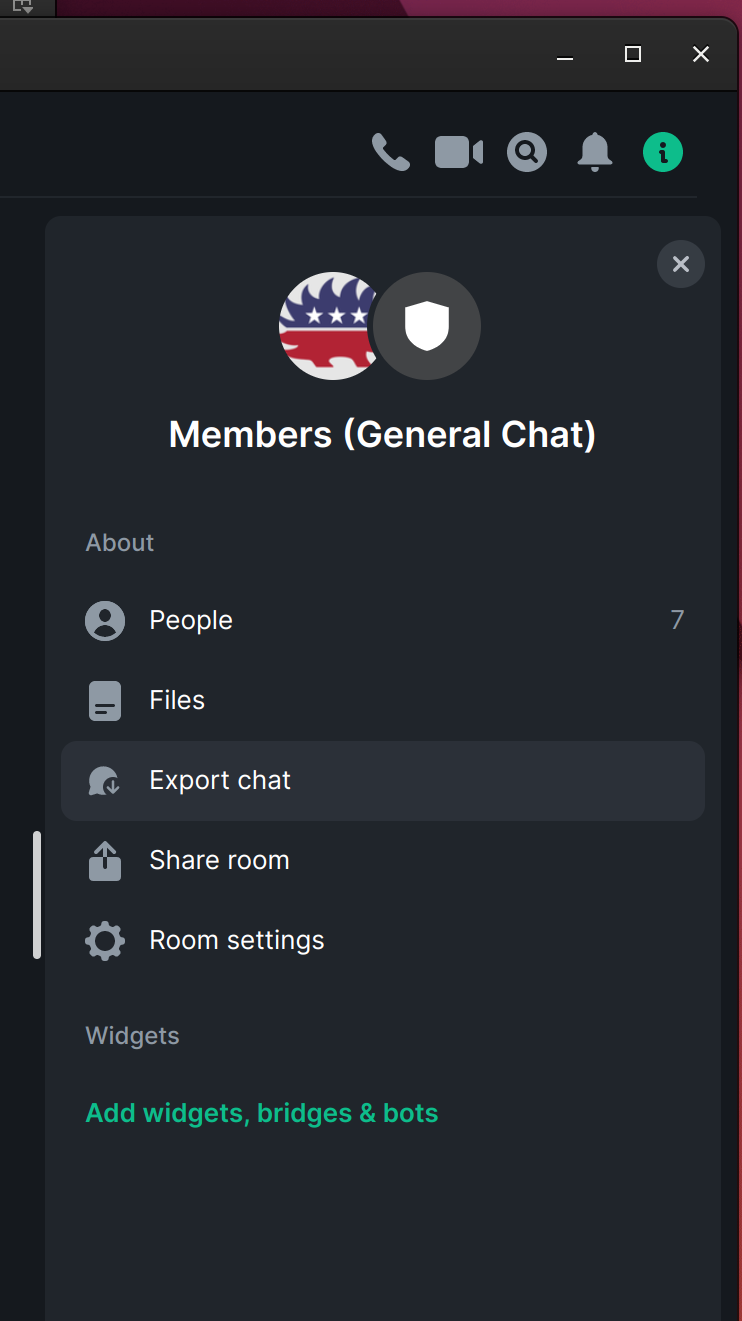 ---
Question: How do I keep my room secure?
Answer: Each individual [Matrix] room has its own set of security settings and moderation controls:
- Encryption (yes/no)
- Never send encrypted messages to unverified sessions in this room from this session (this forces the users in your room to authenticate with their key for each session)
- Access: Private, Space Members, Public
- Who can read history: Members only (since the point in time of selecting this option), members only (since they were invited), members only (since they joined)
---
Using [Matrix] Bots to Backdoor Existing Encrypted Chats (video)
---
What is [Matrix] Software?
Watch the video demonstration, geared toward techs & C-level Management:
(Apologies in advance for the poor audio quality)
[Matrix] User Guide
Covington Creations [Matrix] address book
Currently, the following staff accounts exist on our Matrix server (and no more than these):
@nate:covingtoncreations.com
---
Matrix Guide Source:
Reidel Law Firm (Texas)
https://ewha3547gp9.exactdn.com/wp-content/uploads/2021/07/Reidel-Law-Firm-Guide-to-Matrix.pdf